Best Pet Stores REVIEWS 
I have checked out the websites for all of the below online shops.   Many of these shops carry items you will never find in a brick and mortar store. This collection of the best pet stores all carry dog supplies, but many also have supplies for many other pets like cats, birds, fish, rabbits etc.
I regularly change the selection of stores here based on my general opinion of them. If I don't like a company or store, I don't include them here or take them off later when my opinion of them changes LOL!
Maybe you are looking for a specialty item not found in your local pet store, a gift for your pet, or a gift for a pet loving friend, you will find what you are looking for in one or more of these stores.
Just click on the images or banners below and you'll be taken on a short shopping trip, no trains, planes or cars involved. Grab a cup of your favorite coffee, hot chocolate or tea, turn on some music and browse to your hearts delight. It's certainly my favorite way to shop, from the comfort of my home or on my cell phone wherever I am.♥
The link to your right- Radio Fence, is a store with a COMPLETE line of electronic fencing for dogs, however don't let the name fool you! They have a very nicely set up store with almost any accessory you'd want or need for your dog.
Radio Fence also has a huge selection of items for cats, fish, hamsters, rabbits and birds. Love this store!
Radio Fence has cages for small pets like rabbits, gerbils and chickens. I especially like their wire play pens, and use them for my rabbit and chickens. I used to use my wire play pen for dogs as well.
This company has a lot of wireless training devices for both dogs and cats, however their store has expanded to specialized equipment like ramps and treadmills. Radio Fence has treadmills for every size of dog, here's a link to one called Go Pet Treadmill that I especially like, to exercise small dogs, and looks like a hamster wheel!
This particular treadmill works just like a hamster wheel too, the dog is the one that 'powers' it, not a motor like in a flat surface treadmill commonly used by people.  Although the photo does not show it, the GoPet Treadmill is fully accessible to your dog, he or she can go on or off at will.
Radio Fence has some beautiful dog crates and dog houses that you won't find in any common store. For example, here's a Medium Wood Dog crate, made to look like an end table that would look beautiful in most living rooms.
I can't forget their selection of dog carriers, dog car seats and covers, car barriers, pet covers for your bench or bucket seats and the list goes on and on.
Looking for a gate or indoor fence? Radio Fence has those too, at last count, I think they had over 50 selections of gates, indoor fencing and other related pieces. Forget about those cheap looking plastic gates sold in other stores, Radio Fence has many in beautiful wood and metal styles, that any pet owner would be proud to use in their home.
They offer Free Shipping to US addresses within the continental States if the order is over $49. Radio Fence also ships internationally
I have another page in this site that has a select group of online dog courses for learning Grooming, Dog Breeding, House training, Litter Box training for dogs, and others.
This link FlexPet is a nutritional supplement for dogs and cats that has been created to remove the pain in joints, to encourage some renewal in the connective tissue around joints.
The ingredients are human grade and contain a blend of enzymes, glucosamine, MSM, Collagen, Bromelain, the most important- cetyl myristoleate.
Many of you may have dogs or cats that are seniors and have difficulty getting up or moving about without pain. The reviews on this product are good, many pets have experienced relief with this product.
This supplement is created by a vet, Dr. David RandalI, also host of a TV program called Dr.4 Pets. For a full description of their product, check out their website and hear what they have to say. They have a Full Guarantee as far as satisfaction goes on this product.  Flex Pet ships worldwide.
Pet Stroller World owned by Peazz.com supplies Bike Trailers and Pet Strollers. These Bike Trailers and strollers could be used for children as well as your furry babies.
Now you might be thinking that there is no real reason to have your dog ride in a bike trailer like this?
Well, very small dogs would have trouble keeping up with you on your bike, or an older dog that can no longer run like he used to. Maybe you like to use your bike in city areas where it would be dangerous to have your dog run alongside your bike, this trailer would be another option.  They also sell doggie strollers, yep, you read that right! Many small dog owners use them as portable kennels on wheels!.
Their prices are very reasonable.  I noticed when I visited their website, a box popped up offering me a change to give them a counter offer of their stated price. That is kind of cool, you don't see that often
Edit as of January 12, 2019, This company regularly posts special sales too, I noticed recently that Peazz is having a 12% after Christmas sale on these Strollers.
Shipping within the USA is Free. Regarding Worldwide shipping, this is what their website states…. "Peazz.com will now ship to USA and Canada. If you would like to ship to another country, please e-mail us at homesupport@peazz.com and provide us your shipping address as well as the items that you are interested. We would be glad to provide a shipping quote for you."
Just for fun, here's a short video of a dog enjoying a   Bike Trailer 🙂
By the way, this dog is very well trained. I would suggest that you leash up your dog in the trailer and keep the screen up partially 🙂
I found an herbal pet apothecary or pet pharmacy, Natural Wonder Pets,  a company that creates safe products from A to Z. Dewormers, dental products, flea and tick control for dogs, and herbal medicines for various illnesses.
I especially love a feature on their website that encourages you to ask questions. This company has an online forum where you can ask questions and get answers about their products and usage.
Natural Wonder Pets is a USA company that ships internationally
Here's another herbal apothecary, Pet WellBeing  that sells natural herbal products for ear infections, various diseases, dental, flea and tick control for dogs and many many more.
This company is owned by a Veterinarian who is focused on natural health. Pet WellBeing also has a panel of advisers made up of practicing vets, acupuncturists, herbalists.
You can ask a Vet for advice on various subjects. Pet Wellbeing is a CANADIAN company AND ships internationally.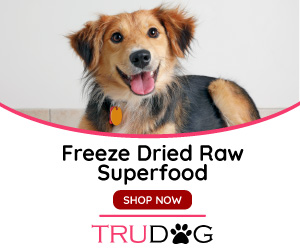 For premium dog food, TruDog is tough to beat. All their meat based formulas are from top cuts of meat, herbs and vegetables, contain no fillers like grains, rice, and others.
TruDog has placed their own stamp on their products, branding them as BoostMe, RawGo, FeedMe, and others. All their foods are dehydrated and require no refrigeration unless foods are opened and mixed with water.
Dehydrated foods have had 80% of their moisture taken out, and you do have to add some water back before feeding to your dog. TruDog gives you better pricing when you sign up for auto shipping, taking 5% off of the original cost.
While TruDog has become known for their raw dehydrated foods, they also have specialty treats, dental products, grooming products and more. Check them out!
Due to international laws regarding food, TruDog can only ship their products within the USA. There is Free shipping for orders over $47, within the USA. Note- TruDog also offers a 60 day money back guarantee. TruDog can also be found on Amazon.com, but you will only get a 30 day money back guarantee through Amazon's policies. 
For the page Petsies