Control Dog Shedding
To control dog shedding is easier said than done. I use the term 'control', because you cannot prevent shedding. Shedding is natural, old hairs come out as new hairs grow in. It's a fact of life. Lizards and snakes shed their old skins in favour of new ones. Humans apparently lose about 100 hair strands per day… not sure I entirely believe that though. The only dogs that do not shed, are well…. the hairless ones!
The so called non shedding breeds still shed too (only less), but their shedding undercoat gets caught up in the top coat and becomes a matted mess if not taken care of. Those breeds have hair that just keeps on growing too, and without daily brushing/combing, will tangle and become matted.The fully double coated shedding breeds like Golden Retrievers, Collies, Huskies, and many more, have to lose their undercoat and some of their top coat to prepare for the changing seasons.Those breeds were specifically bred for harsher climates, in order to thrive in outdoor environments.
I have always owned the full shedding breeds, and have also had a couple of Poodles. This  article is about the shedding breeds, that leave fluff all over the house, clothing, furniture, and yes, even in your plate! As a child and later a teen, our family was quite used to casually pulling the occasional strand of dog hair off the edge of a plate without being grossed out. However, finding one of my mother's longer hairs wrapped up in an item of food, that was strangely more disturbing. To this day, I am more grossed out to find one of my longer head hairs in my food than to find a wavy black strand of my dog's hair in my meal LOL!
What starts the shedding process?
Generally it's the shortening days and longer nights that signals the dog to begin preparing for a colder season. Temperature also plays a huge part in signalling the shedding out or growing back of heavier fur. I have had shedding breeds as house dogs and shedding dogs as outdoor dogs. Speaking from experience, there is a huge difference in shedding patterns when comparing mostly indoor dogs to mostly outdoor dogs.
I have read many an article saying that all shedding dogs will shed twice per year, spring and fall but that has not been my experience. We had a Pom/American Eskimo X, who when left in his full coat, would only shed once in response to hot weather. It took awhile because I had to brush it out as it popped off his skin. By the fall, he would be back in a full coat, ready for colder winter. However, because of his heavy coat, and his being miserably too warm from Spring to Fall, I chose to clip his entire coat short, 3 x per year. I did the same with his buddy, a Corgie X, who also preferred a shorter coat.
I would generally short clip/shave their coats as early as Feburary, even though our winters are cold and harsh. Little Joey, our Pom X, would find the coolest areas of the house in an attempt to be comfortable even in winter. His movements would slow down, he would be less playful too. However, after another short haircut, Joey would be bouncing all over the house, full of energy. Same with Bobo, our Corgi X. If the hair cut was in Febuary or March, they would have to wear some clothing for a couple of weeks in the house  until they had grown in some under coat again.By shaving 3x yearly, the two of them did not shed their coats, maybe just some fluff popping out of their tails and head coats from time to time (I left those areas longer).
To keep them warm after a short clip in the cold seasons
I eventually found a couple of insulated and waterproof jackets for them that worked out amazing for them. By the hot months of summer, both were feeling too warm in the house again, having grown back most of their double coats!. Another hair cut and they were happy again, no clothing needed. Back in late Fall, I would give them yet another short clip so they could be comfortable until Feburary.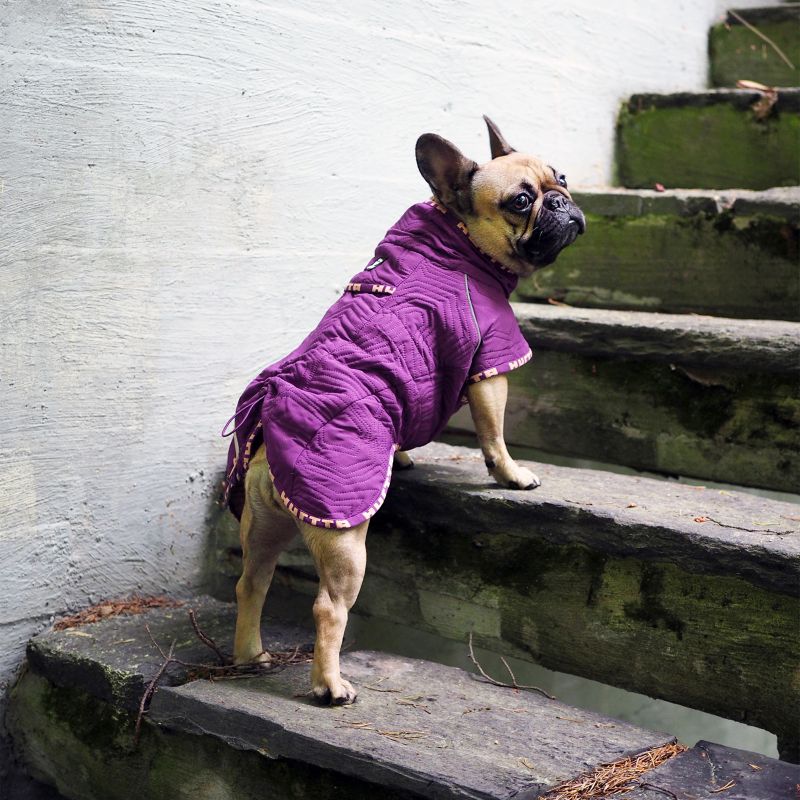 Hurtta Casual Quilted Dog Jacket 12XL Heather
Hurtta Casual Quilted Dog Jacket [More]
Price: $60.00
Sale: $60.00
*The Jacket and dog featured above are not mine, I found them on Dog.com which is the company that I bought my dog's jackets from once upon a time. Actually it was on Horse.com, but they are one and the same company. The Jackets that I bought for mine were by WeatherBeeta, which also makes Horse blankets/jackets.
A long time before we had Joey and Bobo in our lives, we had a Golden Retriever named Chelsea for about 10 years. This was before I was a professional groomer. Chelsea seemed to shed constantly, there did not seem to be a particular shedding season, only that it was heavier shedding in early summer. We used to joke that it was a good thing our carpets matched the colour of her hair. Even our vinyl floors were in shades of gold so we hardly noticed the hair on the floor. We would certainly notice her golden hairs when wearing dark clothing !
After Chelsea, we owned a Siberian Husky for a few years (cancer took him after a very short time), and he trully did seem to shed twice a year even though he was mostly a house dog. His very dense husky coat would pop off quickly in Spring, and then once the weather became colder, he would shed again, growing in his winter fur. The fall shedding was minimal however compared to his spring shed. It was nice not to have his mostly white fur not shed during the cold months to spring.
Our outdoor dogs
being either shepherd or collies, would only start serious shedding in June/July in response to the outdoor temps being uncomfortably warm for them. To speed up the comfort level for my Rough Collie, who had an exceptionally thick coat, I chose to shave his midriff, starting at his shoulder, all the way to 3/4 down his tail and down to his hind hocks. Back then it was called a 'Lion cut'. This left me with a heavy coat on his front section to gradually brush and shed out. Frisco looked forward to these Lion cuts, and absolutely loved to have any person pat or rub the top of his butt after his new hair cut. He would prance around the yard, showing off his Pom pom tail! In a couple of weeks, he would already have soft fuzz growing on these shaved areas, really accenting his Lion appearance.
Okay, so obviously an outdoor shedding dog is not going to be much of a problem for you in terms of keeping your home and clothing a little tidier. I give these examples to show you the difference that environment and temperature make in a dog shedding his or her fur.
Short coated dogs like Pugs, Boston Terriers, Great Danes, Dobermans and many others, are generally house pets as they don't have enough protective coat to thrive in cold or harsher outdoor temperatures. People often make the assumption that getting a very short haired breed will result in less hair in the house. This is very far from reality! In fact you are very likely to have MORE dog hair on your floors and furniture. Being very short, when the hair follicles let loose, it does not get caught in any long top coat hairs, and winds up in free space LOL!  Also, since these short haired breeds are generally house pets, in climate controlled environments, their shedding cycles may be in a constant state of shedding!
For house dogs that seem to shed constantly
you can choose to shave them the way that I did with my Joey and Bobo (three times per year) or you will have to brush and vacuum them daily! I recommend a variety of slicker type of brushes (like this Conair shed it kit)  if you have a fluffy dog. For the very short haired dogs, a bristle type of brush should be used. What is a slicker brush?
They are used to brush out loose coat, and have either more fexible soft bent pins or the very stiff pins for tough dematting. Slickers come in many sizes and shapes. The photo on the right shows an economy type of slicker that I have used many times on larger dogs. I prefer the more rounded shape of a Conair to get in all the nooks and crannies of a dog's shedding areas.
A bristle brush is made with either synthetic or natural fibres, and is used to brush out a short coated dog where no dematting is necessary. The bristle brushes are absolutely useless on a tangled or matted coat. A bristle type of brush is excellent for the thin skinned very short haired breeds though, like Boston Terriers, Bulldogs, Min Pins and many others.
Those breeds would not appreciate having a slicker brush dragged along their sensitive skin. Brushing your short coat breed with this type of brush, is great for distributing the natural body oils, and increasing circulation. Dogs generally love to be brushed with one of these types.
Another great tool is basically a clipper blade with a handle. Groomers discovered many years ago that the #30 or #40 size shaving blade for clippers, could be used on it's own to de shed a shorter haired dog. Furminater came along, putting their own spin on it and other companies have done the same. These tools work great on short haired dogs but should not be used on long haired dogs that are matted or tangled.
Many years ago when we owned our Golden Retriever, Chelsea, I did not know as much about nutrition as I do now.  If I had my beloved Chelsea here with me today, I would turn to super nutrition to curtail all that unseasonal shedding.
Constant shedding by house dogs can be GREATLY minimized
by feeding your dog a mostly grain free diet, high in quality protein, high in fat, and high in Omega 3s. Yes, you read that right, high in fat. I can just hear the gasps and see the shaking heads.  Most dogs do not get enough fat in their diets!  Fish oil is particularily good as a fat that is high in Omega 3s. Fatty acids from Flax and Hemp are also wonderful for the overall health of your dog.
When I see a short haired dog that sheds constantly and does not have a glossy coat, I know that their nutrition is lacking in healthy fats. First, put them on a better diet, go to my pages called Healthy Dog if you are not sure your dog's food measures up. A medium quality dog food can be improved upon by adding some healthy fat like a tsp (5 ml). of coconut oil, Hemp oil or Flax oil to every meal (or all three). Larger dogs can have more, like a Tablespoon (15 ml). I also add a raw organic egg (from my hens) to my dogs food about 2-3 times per week. I have seen an improvement in their coats, less tangling and matting during this shedding season and more shine.
A customer of mine many years ago had a black Lab living in their home that was constantly shedding, it did not matter the season. The owner did some research and decided to feed her dog a Tablespoon of freshly ground Flax seeds in his food. She told me the difference was phenomenal! Her Lab's coat gleamed and stopped shedding on a constant basis! This is way before the time of researching via the Internet or Googling as we all call it these days.
Since then, it has become well known how important Omega 3s are in oils like Hemp, and Flax, also the Lauric acid in Coconut Oil. Omega 6s are abundant in everyone's diet and cause inflammation and imbalance without Omega 3s. There is also Omega 9 fatty acids, equally important to everyone's diet. Wondering about what other dog owners are doing with coconut oil, check out the Dog Food Adviser forum.
So to control dog shedding issues in your home, you have some options. You can clip or shave your dog's coat 2-3 times yearly, but this is generally not an option for breeds that have to spend a lot of time outside. You can brush, comb and vacuum your dog every single day… not my idea of fun! However, I would advise that you turn to nutrition, improving your dog's health from the inside to the outside. It can be that simple!