Protect your dog in the cold weather
How do you protect your dog in the cold weather? 
Some of us live in very cold climates, and others in warmer climes. I don't have experience with warm winters as we live in the cold section of Canada, central area of Manitoba. So far we have been having an unseasonably warm winter, snow one day, melting the next and then freezing cold again. A couple of days ago, we had melting going on, today we are back to the shivery C below zero teens. Zero in Celcius is freezing. This up and down can be very hard on all animals that spend time outdoors, therefore it's important to know how to protect your dog in the cold weather.
We have always had dogs that lived in the house with us and also have always had an outdoor ranch dog or two or three… This year we only have two very furry Golden Retriever Xs living outside parttime, our 2 indoor dogs passed away over a year ago at the age of 17 years.
Our indoor dogs were kept in short trims to keep the level of shedding hair to a low minimum in the house. When they were young, I did not put any jackets on them to go outside unless they had just been trimmed short. They would only be outside for 10-15 minutes at a time to limit cold exposure, a little longer on the nicer days closer to melting snow.
As my indoor dogs aged
they felt the cold more keenly as they lacked the light layer of fat over their frames that kept them insulated. I then purchased some matching jackets for them, water proof layer, insulated and very easy to put on. They looked so cute bouncing around the snow in these jackets! I believe I found these jackets for them online on a horse supply store at the time. They were designed to cover the chest, back to the tail, sides to partly under the belly. I packed them away with their favorite beds, somewhere deep in storage right now, or I could tell you exactly what brand and type they were. I slipped them on over their heads and then only had to snap the belt closed underneath and they were ready to roll in seconds 🙂
When I was still operating my Pet Hotel, I would keep a selection of dog sweaters and dog coats on hand for those short haired dogs that did not have one. I believe it's rather cruel to expect a short haired or thin coated indoor dog, used to warm indoor temperatures to go for a walk outside without protection. It would be like making you  go outside in your summer clothes, walking about in the snow in your shorts and sandals! From time to time, I looked after a very thin coated Greyhound whose owner brought along the dog's parka, boots and a scarf! It was a bit of a struggle to get the boots on, especially while this dog was getting excited to go outside and play with the other dogs. A few times I had to go out on the snow banks looking for a missing boot that had fallen off during play.
There were winter days that were so cold
that most dogs wanted to go back inside after the first couple of minutes(try to imagine minus 30C and colder) . Some dogs took 15 minutes to be able to relax enough to relieve their bladders and bowels. I would keep them all moving, around and around,in the two dog parks and exercise areas. Often we just had to come inside to warm up for 10 minutes and then back outside until I was sure everyone had gone to the 'bathroom'. Ooohh those were not fun days!  Winter can be a tough challenge when you are still housetraining a dog. Now you see why it might be important to buy your dog a jacket or coat?
My suggestion is to avoid the sweaters, they are really not that warm and are difficult to put on. I have tried a selection of dog T shirts, sweaters, coats and parkas. My preference hands down, is the insulated coats that my dogs used. However, if you have a really 'naked' dog like a Boston Terrier, my advice is to get your dog a Parka that has sleeves for the front legs, a hood that flops over the little head and ears, and long enough that it covers the entire back. It should fit snug around the body to keep in the warmth. It's useless if it's too baggy and too short, cold air will get in and warm body air out. Other dogs that have some fur on their legs and bodies, will be fine with the coats that cover the chest, back, sides and part of the belly. The coats should be snug enough that there is not a big air gap.
Avoid the jackets and coats with zippers, they are terribly difficult to put on without catching fur into the zipper. Most have velcro these days. If you are wanting a dog Parka with the sleeves, the easiest ones to put on are the ones with velcro fasteners along the dog's back. That way your dog can step into the Parka and you can quickly and easily fasten them into it. I had a parka for a particular Boston Terrier in my Pet Hotel that was pretty wiggly and excited, so fastening the velcro properly was challenge. That parka fastened underneath, not great!
If you live in a climate that has very wet snow or cold rain during your winter
you will definitely want a waterproof coat or jacket. Many dogs enjoy falling snow but absolutely hate getting wet. There is no point to having your dog wear a coat if it gets soaked through right? I have never owned a dog that hated snow, even my indoor dogs would roll around in the snow. Rain is another story. Generally only the water loving dogs enjoy a rain shower. One of my Retriever ranch dogs heads for shelter or begs to be let in (which I do) when it starts to rain.That particular dog will also avoid puddles.  My other Retriever dog loves water and does not mind a light shower but when it starts to pour, he wants in too!
Another important protection your dog may need is boots…. yes boots 🙂  They can be a pain to put on but are very necessary if you have a thin skinned dog like a Greyhound or Boston Terrier or any other thin coated indoor dog.Why?
The almost hairless dogs, have very thin skin on their paws   If you have a fenced yard and just need to let your dog out for a bathroom break, slip on that jacket and let them out, boots are not necessary for that short a time.
Now if you are planning on a leashed walk, boots are necessary for walking on the brutally cold concrete areas or gravel, not to mention the salt on the walkways. Dog boots have come a long way from the early days when I tried to put boots on my little poodle. Dog boots these days are designed to be easy to put on and fasten (velcro) and stay on much better. For wet weather, you can buy rubber pull on types that look kind of like balloons!  I have never tried those on any dog.
Boots used to be considered for 'sissy dogs' only … you know, those very pampered dogs wearing clothing 24/7, but no longer. Boots are considered essential equipment for dogs that have no choice but to walk on a salted sidewalk or street. Dogs paws are pretty tough but they are not designed by nature to take on salt and freezing concrete. Sled dogs or dogs that are used in various joring activities, also wear boots to protect their paws from concrete  burns, salt burns, frost bite or wear and tear from running in rough terrain. A smart dog owner will outfit their dogs with boots when the conditions require extra protection.
You will of course have to get your dog used to wearing boots
many will try to chew off their boots and pull them off. It is pretty funny to watch your dog wear boots the first few times. There will be a lot of high stepping antics! Keep your giggles to a minium if you have a serious minded dog who does not like to be ridiculed. I am serious!  You want your dog to have a postitive first impression of wearing boots. My dogs would simply 'laugh' with me if I thought something they did was hilarious but others will be more upset because of your loud laughter and finger pointing.
If you have a dog that is determined to pull off the boots or to chew them off, distract him by keeping him moving on leash, and then give him or her a treat when you stop. Use lots of praise as long as he or she is not busy trying to take them off. Positive reinforcement for the well behaved actions and distract quickly when he or she tries to take them off. Give a treat after each boot you put on. This way your dog will be conditioned to think of the boots as a good thing.
Keep the boot sessions to short periods of time in the beginning for those dogs that are upset. Some dogs will accept the boots quickly and won't give them much thought but most will fuss some at first. This is not unlike putting shoes on young children for the first time, our sons were not too happy about their first shoes. Our oldest son especially hated winter boots, he refused to walk in them. There was a lot screaming and crying at first. As they grew…  soon they were very proud to wear new boots or shoes.
Outdoor dogs need to be prepared for cold weather as well
If you have dogs that are farm or ranch dogs, more than likely they are breeds that grow in thick dense coats according to the temperatures. Outdoor dogs need a snug sheltered doghouse with bedding and a source of water that is not frozen such as a heated bowl or bucket.  Yes, dogs can survive on snow but it does not give them enough water for optimum health. When dogs are fed dry kibble, they need more water than a dog that is on a wet or raw diet. You could add warm water to dry kibble twice a day to give an outdoor dog the added water, in addition to snow.
A dog that has a thin coat should not live outside in a cold climate, only a double coated breed like a husky, collie, some retrievers, Newfoundlanders, and other breeds like that (including mixed breeds). Some Labs can thrive outside too though their coats are short. The Labs develop a felt like undercoat that actually keeps them decently warm, especially if they are fed well and have a good shelter. Our neighbours have had a lab living outside her entire life, she is old now. They feed her well and she has a snug doghouse.
Most times she is running around outside, following their children around and playing in the snow. Dogs that are underweight will have great difficulty keeping warm, a layer of fat is essential. If you force an underweight dog to spend a lot of time outside, that dog will only become more underweight as any fat that dog has will be burned up for warmth.
Feed your outdoor dog a top quality diet, and enough that your dog can build up a layer of fat for the colder seasons. I believe ALL dogs should be fed 2x per day, but especially outdoor dogs. I have seen so many dogs on terrible diets, both indoor dogs and outdoor dogs. These dogs usually smell bad, have oily skin or a lot of dandruff and often have yeast infected ears. Poor dogs!! Hopefully you have done some grooming before all the new winter fur grows in. Old matted hair in the coat is very uncomfortable for a dog and does not provide warmth that a healthy well groomed fluffy coat does.
The doghouse should be large enough for a dog to lie down in without squeezing into it but should not be excessively large either. A very large doghouse will be difficult for the dog's body heat to warm up. Bedding like a thick layer of straw or shavings work well. Some dog owners like to put in a dog mat with a heater underneath. This is great but careful you don't give a heating element to a dog that likes to chew up things! A dog flap for the doorway is a good idea too unless you have a dog that persists in chewing them off (which is what my dog did).
What we did when we had 3 dogs living outside together (many years ago)
we converted an old shed into a large doghouse with a doggie door inside the 'human door'. Inside the shed, we buillt some enclosed 'bedrooms' with flaps. Two dogs would share leaving the other dog with his own space. The rest of the floor space was for generally hanging out in with areas for food and water bowls. We built a cat area on the top of the dog 'bedrooms' with their own cat door. This worked well for the whole dog and cat clan. That building has since been pulled down and replaced with a much smaller 2 room doghouse.
My present dogs spend a couple of hours inside our home in the morning and the evening. The rest of the time, they can run around in my vacant Pet Hotel dog parks and have access to one of the heated kennels (just above freezing). I retired from the Pet Hotel business this fall so for now, my dogs are enjoying the facilities. They get too warm in the house for too long. The two of them also keep me company when I am working outside or in the barns.
My dogs are fed a very good quality dry kibble into which I periodically add  a raw egg and some beef or chicken broth or warm water. They have a water dish in the house and another water dish in the kennel. I notice that they barely use the water in the kennel, preferring to eat the snow outside.Of course, as I mentioned, I add liquid to their dry food so their water requirements are lower. While in the house, they will drink more, especially when they start to get very warm.
To learn more about what is a good dog food, I have pages on that too, start with the page   Healthy Dog.  I have briefly mentioned Joring, you can find that page here by clicking on Joring. This website is full of free information that I hope can benefit all my readers.
Last but not least….
Lets go over the list briefly regarding protecting your dog in the cold weather… for house dogs that do not have heavy fur, a jacket, parka or coat, boots for walks (even for the heavy coated breeds). For outdoor dogs, make sure they have adequate water, top quality food to maintain a healthy weight, and a snug well bedded shelter. It's just that simple 🙂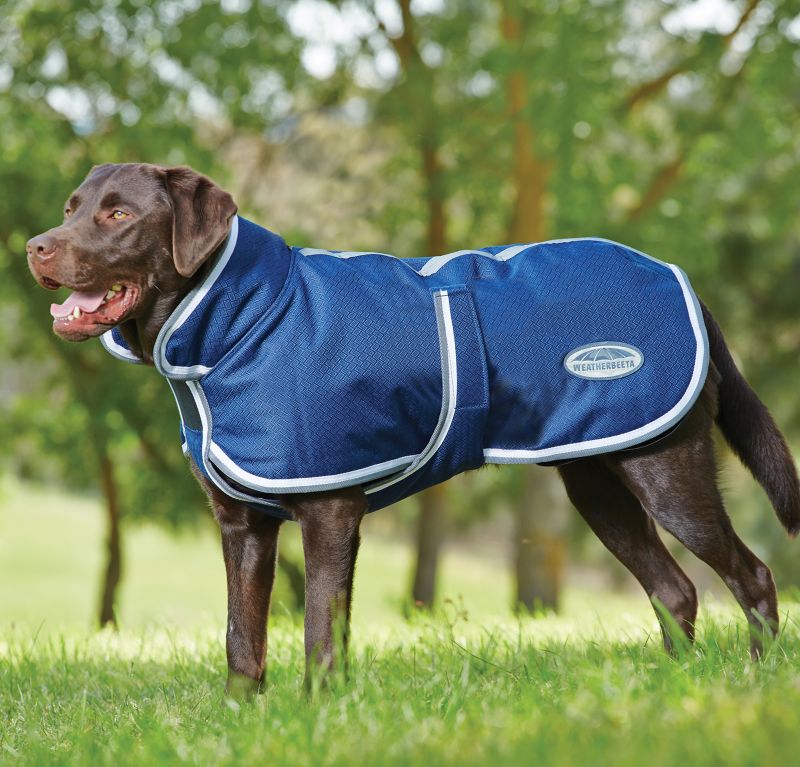 WeatherBeeta Parka 1200D Deluxe Dog Coat 28
WeatherBeeta Parka 1200D Deluxe Dog Coat [More]
Price: $44.95
Sale: $44.95
For the Page Questions to ask when boarding a dog
For the Page Dogs that like Cats